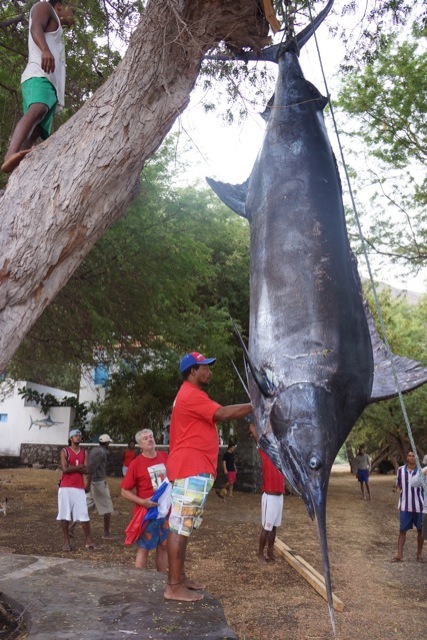 Blue Marlin
1,222 lbs
Angler: Alexander Trukhachev
Boat Name: Happy Hooker I
Captain: Simon Bracey
Location: Cape Verdes
Crew: Tony & Tutu
Short Length:
Girth:
Lure: Bonze Mongrel Dog
Tackle: 130 lbs. Line on 80W Reel
Fight Time: 3 Hours
Boat Size & Make: 33' Bertram
Engine Type: Twin 300 HP Caterpillars
Date of Catch: 07/20/2012
Cape Verdes – Lightning does in fact strike twice, in fact 11 times by our count! The Happy Hooker I has now caught 11 Grander Blue Marlin. The latest was this massive 1,222 lbs. Blue with Capt. Simon Bracey at the helm and Tony & Tutu working the deck. This was Capt. Simon's 2nd Grander this month, having caught our 12th Grander of the Year, a 1,017 lbs. Blue Marlin on the Happy Hooker II.
Congratulations to Capt. Bracey on another great catch!